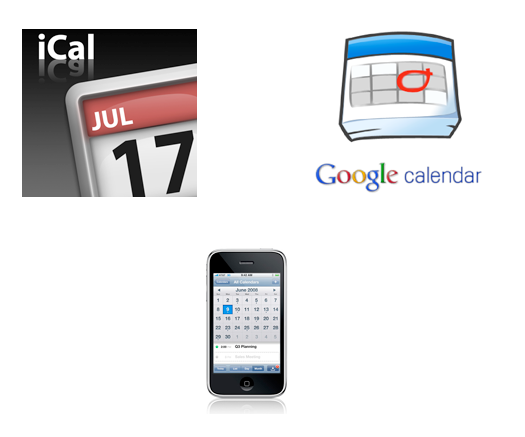 Do you need to Synchronize or Sync your iPhone Calendar?
Many of our clients have asked us about synchronizing their calendar with their iPhone. We really like Google Calendar, Apple iCal (the native Calendar on Macs) and the iPhone Calendar. Also, being in Miami, many of our clients are Miami Heat fans and want to add their team's NBA schedule to their calendar. Here are instructions for synchronizing these calendars. When using these instructions, the user is able to add, modify and delete events on all three calendars.
Google Calendar Sync and Apple iCal Sync
1. To set up CalDAV support for Google Calendar in Apple's iCal, follow these steps:
Open Apple iCal, go to Preferences and then the Accounts tab.
Click on the + button to add an account.
In the box that pops up, enter a description for the account and your Google Account username and password.
Under Server Options, add the following URL: https://www.google.com/calendar/dav/YOUREMAIL@DOMAIN.COM/user
Replace 'YOUREMAIL@DOMAIN.COM' with the email address that you use to log in to Calendar. Make sure to include the '@domain.com' portion (which is @gmail.com for Gmail users) in this section.
DO NOT substitute your username for 'user' at the end of the URL.
Leave the Use Kerberos v5 for authentication option unchecked.
Click Add.
Under the Delegation tab, select the calendars you'd like to add to iCal by checking the boxes next to them. You may need to hit refresh to get the latest list of calendars.
Add your email address to your Address Book card by selecting Add Email. You'll be prompted to add your email address only if your address is not already in your Address Book.
Source: http://support.google.com/calendar/bin/answer.py?hl=en&answer=99358#ical
Google Calendar and iPhone Sync
1. Open the Settings application on your device's home screen.
2. Open Mail, Contacts, Calendars.
3. Press Add Account….
4. Select Microsoft Exchange. iOS 4.0+ allows multiple Exchange accounts.
5. In the Email field, enter your full Google Account email address. If you use an @googlemail.com address, you may see an "Unable to verify certificate" warning when you proceed to the next step.
6. Leave the Domain field blank.
7. Enter your full Google Account email address as the Username.
8. Enter your Google Account password as the Password. (If you are a 2-step verification user, please use an application-specific password instead.)
9. Tap Next at the top of your screen.
9a. Choose Cancel if the Unable to Verify Certificate dialog appears.
10. When the new Server field appears, enter m.google.com
11. Press Next at the top of your screen again.
Enabling the iPhone Calendar Sync – Use Your Browser
12. Choosing which calendars to sync – Google Sync can sync up to 25 Google Calendars with the Calendar app on your iOS device (your iPhone, iPad, or iPod touch).
a) To select which calendars to sync to your Apple device, follow these steps:
Open the Safari browser on your device and go to http://m.google.com
Sign in with your account and select your device from the list of devices you've set up for Google Sync.
Bookmark this page so you can return to it easily.
b) If you use Google Apps, follow these steps:
Open the Safari browser on your phone and go to http://m.google.com
Click on Google Apps user? at the bottom of the screen.
Enter your domain name (e.g., YourDomain.com).
Click the Sync icon in your domain area (this section has a green background).
Sign in if required.
Select your device to configure Calendars.
13. Go to your iPhone Calendar and check to see if your Google Calendar events are displayed.
Source: http://support.google.com/mobile/bin/answer.py?hl=en&topic=14252&answer=138740
Calendar – Importing an iCal or .CSV file
14. In our case, our clients wanted to import their team's schedule from the NBA.com team site. You can import the file the NBA Schedule into either a Google Calendar or your Apple iCal calendar.
a) Google Calendar – Import events from iCal or CSV files
To import events from iCalendar or CSV files, just follow these steps:
Download the iCal file (NBA Miami Heat Website>
Click the down-arrow next to Other calendars
Select Import calendar
Click Choose file and find the file that contains your events, then click Open.
Select the Google Calendar where you'd like to import events, then click Import.
Source: http://support.google.com/calendar/bin/answer.py?hl=en&answer=37118
b) Apple iCal – Import iCal file to Apple iCal
Download the iCal file (NBA Miami Heat Website>
From the Apple iCal Menu, selecdt File, Import, Import. Select the iCal file.
Source: http://www.nba.com/heat/schedule/import_heat_schedule.html
Other Notes
15) Transfer Calendar Items between Microsoft Outlook 2007 and Google Calendar
http://office.microsoft.com/en-us/outlook-help/transfer-calendars-between-outlook-and-google-calendar-HA010167495.aspx

16) Microsoft Outlook, Google Calendar Synchronization
http://support.google.com/calendar/bin/answer.py?hl=en&answer=98563