Ogawa Design Agency in Miami, Florida became a BigCommerce.com Reseller. We created the following Online Store: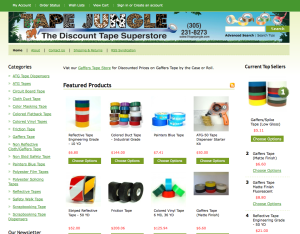 When creating an Online Store we see your biggest challenges:
Online Store Hosting Fees – BigCommerce.com Hosting plans start at $24.95 per month for 100 products (Multiple SKUs per product count as one product). Their fee schedule is heavily discounted compared to other e-commerce store services.
Credit Card Merchant Account – BigCommerce.com supports over 50+ payment providers. BigCommerce's preferred vendor Interspire plans start at only $14.95 per month with a $99 setup fee. BigCommerce also supports Paypal and Google Checkout. The Merchant Account can be enabled in only 3 clicks.
Online Store Template – Getting a great looking online store was very easy with BigCommerce.com. It certainly helps if you already have your company logo and website colors. With most stores, you may not even need to replace any website graphics or make any CSS Style sheet modifications. BigCommerce has a good selection of online store templates.
Adding Products and SKUs- The process of setting up Product Categories and Adding Products was not very difficult with BigCommerce.com. If you don't have Product SKUs assigned  or need them created for you, BigCommerce supports importing .CSV files and their newest version has a Wizard for Building SKUs.
Adding Product Images – Ensuring your products have great images like Amazon.com or other top e-commerce sites is certainly important. BigCommerce.com makes it easy by creating product thumb nails and provides you with an excellent web-based interface for bulk adding images for specific groups of SKUs. The bigger challenge we found was figuring out how to take good product image photos using a Light Tent we ordered from a Photo Supply Company in New York and using Adobe Photoshop to tweak the images.
Driving Traffic to Your Store – This is probably the bigest challenge and BigCommerce makes it easy by enabling an interface to allow SEO Title and Meta tags for each product category and product. We found Google loves the BigCommerce Platform and our site was in Google's Index with days from putting our site live. BigCommerce also has an excellent interface for adding products to Google Merchant / Google Products and eBay.
If you have any questions on creating your own BigCommerce Online Store, please contact Ogawa Design Agency at 786-220-1295. We are  located in the Brickell area of Miami, Florida.