Do you have a Facebook Page for your local business, brand, product or organization yet? Are you an Artist, Band or Public Figure that doesn't have a Facebook Page yet. Here are steps to creating one.
Step 1 – Sign on to Facebook and go to the following link.

http://www.facebook.com/pages/create.php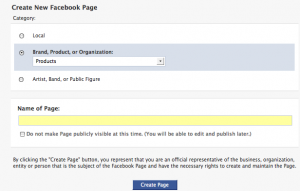 You will need to select the category of your business from the lists below. Selecting the right category is extremely important since you cannot change it once you select one. In addition, selecting the right category is important for your to match your branding. You should browse (see step 2) some of the other Facebook pages first to find your competitors to ensure you are in the right category.
Facebook Local Page Categories
Automotive, Automotive Dealer / Vehicle Service, Banking and Financial, Bar, Cafe, Club, Convention Center and Sports Complex, Education, Event Planning Service, Grocery, Health and Beauty, Home Service, Hotel/Lodging, Libray / Public Building, Medical Service, Museum / Attraction, Park, Pets, Professional Service, Real Estate, Religious Center, Restaurant, Store, Technology and Communication Service, Travel Service.
Facebook Brand, Product, or Organizations Categories
Airline / Ship / Train Station, Communications, Consumer Product, Fashion, Film, Financial Service, Food and Beverage, Game, Government, Home Living, Hotel / Lodging, Non-Profit, Online Store, Pharmaceutical, Professional Service, Religious Organization, Rental Cars, Retail, Sports / Athletics, TV Show, Technology Product / Service, Travel, Website.
Faceboook Artist, Band, or Public Figure Categories
Other Public Figure, Actor, Athlete, Band, Comedian, Critic, Government Official, Model, Musician, Politician, Sports Team, Visual Artist, Writer
Step 2 – Browse Other Facebook Pages
In the example to the right, I typed "Mansion Nightclub" a popular Miami night club that was listed under Local Page Categories – Club. Ogawa Design Agency is listed under Local Page Categories – Professional Service. A note that there are a few categories such as Politician that changes the default "Become a Fan" to "Become a Supporter".  Again, there is no Facebook feature yet to change your Facebook Category so don't skip this step.
Step 3 – Create New Facebook Page
Return to Create new Page: http://www.facebook.com/pages/create.php and:
Select your category
Name of Page (limited to 75 characters and spaces, you can use spaces rather than hyphens "-" or underlines "_". )
Check Do not make Page publicly visible at this time if you want to publish it later.
Remember to read the disclaimer about creating unauthorized pages. If you violate the terms of service, you can be removed as an Administrator or even have your Facebook account disabled.
Step 4.
You should receive the page at the right if your page was successfully created.
You can go ahead and start adding content just like you add content to your current Facebook page.
Here are some general notes on Facebook Pages:
You can assign more than one Admin for every Facebook Page you create so it doesn't matter which Facebook user originally creates the page.  You can assign a Facebook Admin to your Facebook friend or if you are not friends, then by email address.
You can administrate more than one Facebook page with your Facebook account. As a webmaster, I manage several Facebook pages using the website address: http://www.facebook.com/pages/manage
To Edit or page settings, in the left navigation click Edit Page.
There are a number of options to customize your Facebook Page. The main options that I have used are: 1) Discussion Boards – the options to remove the Discussion Boards for clients that did not want any open discussions on their pages which also removes the item from your Facebook Page tabs; 2) The feature to Add Admins; 3) The Events Application for my client's with Business Events.
Step 5.
Don't forget to Publish your Page if you selected the option in Step 3 to not make it publicly visible.
If you have any questions, don't hesitate to contact us at https://www.ogawadesign.com/ or at 786-220-1295.